Investments
Concentrated Stock Strategies
Unlock opportunities and manage the risks associated with having concentrated stock
Whether your stock holdings are the result of hard work, smart investing or a family legacy, a Merrill advisor can help you put the right strategies in place to unlock potential opportunities and manage the risks.
When a significant portion of your investment portfolio is made up of a single stock or a few stocks, it is considered concentrated. This concentration can present risks since the value of these stocks can fluctuate more dramatically compared to a diversified portfolio with many different types of investments.
Switch to Accessibility Friendly View
Manage the risks

Over time, the performance of companies and industries shifts — and no one can predict the future winners. When you have concentrated stock, it's important to have strategies in place to manage the risk of concentration of your portfolios' long-term performance.
Diversify your portfolio

Having a large portion of your wealth tied up in a single or handful of stocks means you aren't getting the benefits of diversification. However, there are strategies that can use your concentrated stock to create a more diversified portfolio which may provide better risk-adjusted returns over time.1
Fund your lifestyle

Investing isn't just about funding long-term goals. Sometimes you need to access cash from your portfolio to fund a more immediate need. Having the right strategies in place to access liquidity can help you avoid costly mistakes such as having to sell when the stock price is down.
A comprehensive approach for your investments
Your concentrated stock position is just one aspect of your wealth. A Merrill advisor can provide comprehensive support and guidance for the total you, helping you to:
| | |
| --- | --- |
| | Connect your life and finances, making the path toward your goals clearer even as life and the world around you changes. |
| | Access personalized advice powered by data-driven insights to help you make more informed decisions. |
| | Take action with Merrill investing and Bank of America banking solutions, as well as additional specialized expertise. |
| | Get forward-looking perspectives and investment insights that help you make progress towards your goals. |
Explore the opportunities with a Merrill advisor
Everyone's situation is different. There's no one-size-fits-all solution. A Merrill advisor can help you explore the full range of concentrated stock strategies and decide which one best suits your liquidity, risk management, diversification, wealth transfer and tax-efficiency needs.
To learn more, talk to your Merrill advisor. Or, if you don't have one, enter your information below to connect to an advisor.
A more personalized way to choose an advisor
Explore our other solutions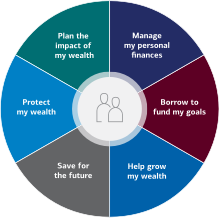 Whether you're defining goals, addressing change or figuring out how to move forward, Merrill and Bank of America offer a wide range of solutions to help you take the next step and stay on track.
Looking for an advisor?
All our advisors are committed to putting your needs and priorities first.
Loading...
Merrill Advisor Match is a more
personalized way to
choose an advisor.
Or if you prefer,
we can have an
advisor contact you.
Custom lending may involve special risks and may not be appropriate for all clients. In particular, Custom lending may be subject to additional credit and legal approval because of special risks and restrictions that need to be carefully considered. Real estate financing and specific program options and property types may not be available in all states and may be subject to change from time to time. As a general rule with respect to each client, consideration must be given to capital gains tax implications, portfolio makeup and risk tolerance, portfolio performance expectations, and investment time horizon.
Securities-based financing involves certain risks. We can help you take into account your individual requirements, portfolio composition and risk tolerance, as well as capital gains taxes, portfolio performance expectations and investment time horizon. Securities-based financing may not be suitable for all clients. The loan is secured by assets in your Merrill Lynch account(s). Market fluctuations may result in a collateral call, and you may need to deposit additional cash and/or securities to meet the call or risk liquidation of your securities at an unfavorable price. In some cases, the securities pledged as collateral may be liquidated. Among other things, this may have negative tax implications for you, especially if the liquidation price of the securities liquidated exceeds your basis. The firm can sell your assets to meet a collateral call without notifying you, and you are not entitled to choose which securities in the account will be sold. You are not entitled to an extension of time to meet a collateral call.
Derivatives are complex instruments that are not suitable for every investor, may involve a high degree of risk, and may be appropriate investments only for sophisticated investors who are capable of understanding and assuming the risks involved. Clients must be options-approved.
Hedging and monetization strategies can result in higher return potential but also higher loss potential. Prospective investors are required to meet certain qualifications and acknowledge they understand the risks associated with certain hedging and monetization strategies that may not be suitable for all investors.
Credit facilities are provided by Bank of America, N.A., Member FDIC, its subsidiaries or other bank subsidiaries of Bank of America Corporation, each an Equal Opportunity Lender. All loans and collateral are subject to credit approval and may require the filing of financing statements or other lien notices in public records. Asset-based financing involves special risks and is not for everyone. When considering an asset-based loan, consideration should be given to individual requirements, asset portfolio composition and risk tolerance, as well as capital gains, portfolio performance expectations and investment time horizon. A complete description of the loan terms will be found in the individual credit facility documentation and agreements. Clients should consult with their own independent tax and legal advisors.