Alternative investments can play a powerful role in helping you achieve your goals
At Merrill, we look for the broadest range of opportunities to help our clients achieve their investment goals. That's why we believe private equity, hedge funds, and other alternative investments should be considered a fundamental part of nearly every investor's portfolio.
Potential benefits of alternative investments
Whether you're looking to maintain your lifestyle through retirement or gain returns to leave a lasting legacy, alternative investments may be the right choice for you. One potential benefit is that they provide access to the cutting-edge companies at the forefront of technology, healthcare and sustainability.1They can also complement your traditional equities and fixed income investments and potentially help you improve diversification, increase return potential and mitigate risk.

Enhanced diversification 2
Complement your traditional portfolio and diversify your assets
Increased return potential 3
Provide additional sources of returns by exposing you to a broader range of securities

Lower volatility
May help strengthen your financial strategy without increasing expected volatility
Ways to access alternative investments
We offer alternative investment solutions through a wide variety of structures tailored to your liquidity needs and risk tolerance.
Private Equity and Private Credit
Private equity funds capitalize on periods of rapid growth or restructuring, investing in private and certain public companies during various stages of their life cycles.
Private equity managers can improve the operations of the companies they invest in therefore creating even more value for investors.
Historically, private equity has outperformed public equity, offering investors a premium for the additional risk associated with investing in the private markets, including illiquidity, less transparency for investors, higher fees and longer investment horizon.
Hedge Funds
Hedge funds engage in a wide range of investments and trading strategies not available to traditional asset managers, such as equity long/short strategies and derivative instruments.
Adding hedge funds to a portfolio can help provide a buffer for market downturn and assist with capital preservation.
Real Assets4
Real asset strategies comprise both actively and passively managed investments in precious metals, commodities, real estate, infrastructure, agricultural land and natural resources.
Investments in real assets often act as additional diversification from stocks and bonds and can serve as a hedge against inflation.
The Bank of America Private Bank Specialty Asset Management group manages non-financial assets such as farmland, timberland, oil & gas and commercial real estate.
Historical performance of alternative investments since 2001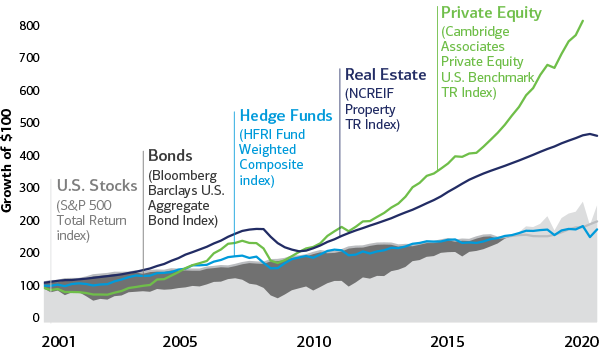 Past performance not indicative of future results. Based on data from December 2000 to December 2019 (except for private equity, which is as of June, 2019). Performance period is dictated by availability of the private equity index, which is reported on a lag relative to other indices.
The Merrill difference
As always, we'll provide you with professional advice, research and portfolio construction so you can invest confidently in these widely recognized solutions.
Our dedicated Chief Investment Office,5 independent due diligence team selects and carefully monitors the alternative investments that are available for purchase on our platform.
We offer products based on their merits, rather than prioritizing proprietary ones.
Our scale and commitment facilitates access – sometimes exclusive – to a broad array of asset managers, including some with lower minimums.
Finding the right strategy for you
Talk to your Merrill advisor to discuss which alternative investments may be right for you. We know not all investors are the same, so we can help you find the alternative investments that best align with your goals and risk tolerance.
Connect with an advisor and start a conversation about your goals.
1.866.706.8321


9am - 9pm Eastern, Monday - Friday
Have questions for your financial advisor?
Connect with to continue the conversation.
1 Impact investing and/or Environmental Social Governance (ESG) investing has certain risks based on the fact that ESG criteria excludes securities of certain issuers for nonfinancial reasons and therefore, investors may forgo some market opportunities and the universe of investments available will be smaller.
2 Diversification does not ensure a profit or protect against loss in declining markets. Alternative investments involve limited access to the investment and may include, among other factors, the risks of investing in derivatives, using leverage, and engaging in shorts sales, a practice which can magnify potential losses or gains. Alternative investments are speculative and involve a high degree of risk and volatility.
3Alternative investments are intended for qualified and suitable investors only. Alternative Investments such as derivatives, hedge funds, private equity funds, and funds of funds can result in higher return potential but also higher loss potential. Changes in economic conditions or other circumstances may adversely affect your investments. Before you invest in alternative investments, you should consider your overall financial situation, how much money you have to invest, your need for liquidity and your tolerance for risk. Alternative Investments are speculative and involve a high degree of risk.
4Nonfinancial assets, such as closely held businesses, real estate, oil, gas and mineral properties, and timber, farm and ranch land, are complex in nature and involve risks including total loss of value. Special risk considerations include natural events (for example, earthquakes or fires), complex tax considerations and lack of liquidity. Nonfinancial assets are not suitable for all investors. Always consult with your independent attorney, tax advisor, investment manager, and insurance agent for final recommendations and before changing or implementing any financial, tax, or estate planning strategy. Client eligibility may apply.
Some or all alternative investment programs may not be suitable for certain investors. Investors must have a pre-existing relationship of six months or longer with the financial advisor before becoming pre-qualified to receive information on alternative investment products. No assurance can be given that any alternative investment's investment objectives will be achieved. Many alternative investment products are sold pursuant to exemptions from regulation and, for example, may not be subject to the same regulatory requirements as mutual funds. In addition to certain general risks each product will be subject to its own specifific risks, including strategy and market risk. Certain alternative investments require tax reports on Schedule K-1 to be prepared and filed. As a result, investors will likely be required to obtain extensions for filing federal, state, and local income tax returns each year.
Index definitions.
The indexes shown are provided for illustrative purposes only. They do not represent benchmarks or proxies for the return of any particular investable hedge fund product. The hedge fund universe from which the components of the indexes are selected is based on funds which have continued to report results for a minimum period of time. This prerequisite for fund selection interjects a significant element of ― survivor bias into the reported levels of the indexes, as generally only successful funds will continue to report for the required period, so that the funds from which the statistical analysis or the performance of the indexes to date is derived necessarily tend to have been successful. There can, however, be no assurance that such funds will continue to be successful in the future. ISG Alternative Investments group assumes no responsibility for any of the foregoing performance information, which has been provided by the index sponsor. Neither ISG Alternative Investments group nor the index sponsor can verify the validity or accuracy of the self-reported returns of the managers used to calculate the index returns. ISG Alternative Investments group does not guarantee the accuracy of the index returns and does not recommend any investment or other decision based on the results presented. Reference to indexes or other measures of relative market performance over a specifified period of time (each, an index) are provided for illustrative purposes only and do not imply that any Bank of America account, fund or portfolio will achieve returns or volatility results similar to the index. The figures for the index reflect the reinvestment of dividends but do not reflect the deduction of any fees or expenses which would reduce returns. Investors cannot invest directly in indexes. We strongly recommend that these factors be taken into consideration before an investment decision is made.
S&P 500 Total Return Index (U.S. stocks): A market-capitalization-weighted index that measures the market value of 400 industrial stocks, 60 transportation and utility company stocks and 40 financial issues.
Bloomberg Barclays U.S. Aggregate Bond Index (Bonds) is a benchmark index composed of U.S. securities in Treasury, Government-Related, Corporate and Securitized sectors. It includes securities of investment-grade quality or better, have at least one year to maturity, and have an outstanding par value of at least $250 million. Benchmark selected to represent fixed income returns.
Cambridge Associates Private Equity U.S. Total Return (Private Equity): Performance data is calculated quarterly by Cambridge Associates and published by Thomson Reuters Venture Economics' Private
Equity Performance Database which tracks the performance of thousands of U.S. and European venture capital and buyout funds formed since 1969. Sources are financial documents and schedules from Limited Partners investors and General Partners. All returns are calculated net to investors (net of fees and carried interest) by Thomson Venture Economics from the underlying financial cash-flows using both cash on cash returns (distributions and capital calls) and the unrealized net asset value of funds as reported by private equity fund managers. The "U.S." category includes only U.S. funds. The"All Venture"category includes data from early / seed, and later-stage financing. Historical data is revised when funds are added or removed.
HFRI Fund Weighted Composite Index (Fund of Hedge Funds) is a benchmark compiled by Hedge Fund Research Inc. and is designed to reflect hedge fund industry performance by constructing equally weighted composites of constituent funds, as reported by the hedge fund managers listed within the HFR Database.
NCREIF Property TR Index (Real Estate) is a composite total rate of return measure of investment performance of a very large pool of individual commercial real estate properties acquired in the private market for investment purposes only. All properties in the NPI ― the great majority being pension funds― have been acquired, at least in part, on behalf of tax-exempt institutional investors. As such, all properties are held in a fiduciary environment.