Let's build a plan all about you
Welcome, we're glad you're here. We'd like to introduce ourselves, show you what it's like to work with an advisor and share the benefits
you can enjoy with access to investment strategies from Merrill and the full range of banking capabilities from Bank of America.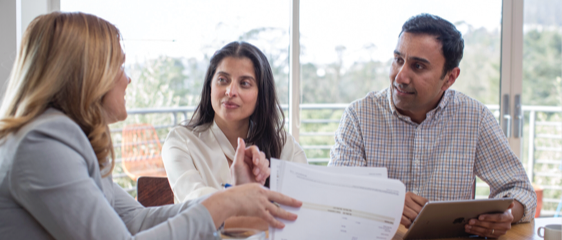 Guidance is just the beginning
You may think your advisor's role is limited to your portfolio however we believe it goes beyond that. Working with a Merrill advisor can help turn your hopes and dreams into a personalized financial strategy. Your advisor is your resource, and your strategy is your personal financial road map. 
The right advisor for you
Your relationship with your dedicated advisor is all about you – you'll be working with someone you connect with and who understands your priorities.
A relationship built on common values
Your advisor is someone who can be there for you for years to come, providing more than just stock recommendations and who will focus on your short- and long-term goals.
Different approaches for different needs
The right guidance can unlock new possibilities
A Merrill advisor can help you go even further with personalized investing strategies plus access to the full range of banking solutions only Bank of America can deliver. Watch this video to see how a dedicated advisor can help make all the difference.
Have an advisor contact you.
Working with us should work for you
You'll have access to all Merrill and Bank of America have to offer. Merrill advisors will keep you informed about our programs, benefits and the latest Merrill investing information.
Know what you're paying

Your advisor will work with you on your strategy and clearly lay out any related fees to help you find the plan and fee structure that work for you.

Bank of America Preferred Rewards

One advisor, many benefits

Your advisor can coordinate with key professionals in your life – accountants, estate attorneys, elder care resources and more.
Ready to meet your match?
Try Merrill Advisor Match, a more personalized way to choose an advisor who fits your needs and preferences.
Loading...
92% of our clients rated their advisor a 9 or 101
Having the right guidance makes a difference. Your Merrill advisor can provide personalized investing strategies
plus access to the banking capabilities, tools and technology only Bank of America can deliver. 
There's more than one way to invest with Merrill
Working with a dedicated advisor for a personalized strategy is just one way you can invest with us. You may find you're interested in a different approach or want to take advantage of a couple of our offerings.
1Bank of America employs Ipsos, the world's third largest market research company, in conjunction with Qualtrics to continuously measure Merrill Lynch Wealth Management client satisfaction via an online survey. Results quoted are from surveys conducted July 1 2022 – June 30 2023 with a total sample of 55,348 clients randomly drawn from the Merrill Lynch Wealth Management client base after eligibility (minimum $20k in household assets, advised relationships) and privacy exclusions (deceased, in litigation, bad email address, etc., and had they been included percentages may be different). When asked how satisfied the client was with their primary financial advisor, 92% rated them a 9 or 10; 6% a 6-8 and 2% a 1-5.