Sustainability choices for your lifestyle and wallet
As you think about the ways you and your family can live more sustainably — at home, on the road or at work — you'll also want to consider ways to fund the upgrades or purchases needed to make those lifestyle shifts.
Sustainability is becoming an increasingly critical topic, as we search for ways to reduce our impact on the planet and move toward a more environmentally friendly world. We are also seeing a shift in the lifestyle choices people are making — at home, on the road and at work. With a wide range of ways to go green, it's a matter of choosing which ones benefit you, and your finances, the most.
There are a wide variety of green home improvements designed to lower your carbon footprint and save you money — thereby benefitting your finances and the environment. In fact, sustainability is a top priority for young homeowners in 2022.1 Wherever you are in your search for a greener lifestyle, the journey to incorporate green living can begin with these sustainable home improvements.
Make the switch to solar energy. Installing solar panels on your roof is just one way to take advantage of solar energy. Solar panels still carry a hefty price tag, but over the last decade, the cost of solar panels has dropped in price by more than 70%.2 If you're not ready to install panels, you can opt for solar water heaters and outdoor solar lights. Solar water heaters provide heating, storage and insulation for your hot water use at any time, while solar lights say goodbye to extension cords and hello to a sun-powered external light source.
Inspect your windows and doors. If your budget suffers from high utility bills, you might need to replace or reseal your windows and doors. It's estimated that 30%3 of home energy is lost through windows, so a good way to discover if you have a draft is the candle test. Light a candle and hold it next to the window or door seam that you think might be drafty. If the flame bends, it means your window or door is letting air into or out of your home. Not up for replacing your old windows or doors? You can increase your home's efficiency by resealing with weather stripping, door snakes or window treatments.
Invest in energy-efficient appliances. Choosing an Energy Star certified appliance is an investment that in the long-run, could pay for itself — whether it's a refrigerator, television or home lighting. Not sure which appliances need to be upgraded? Most solar energy companies offer "energy efficiency audits". You can have someone assess your home's efficiency to pinpoint what improvements will offer the most value to your home's energy system.
Use eco-friendly paint and reclaimed materials when renovating. If you're planning on a home improvement project involving paint, make sure to choose one that doesn't contain volatile organic compounds (VOCs). These compounds emit toxins harmful to humans and the environment. You can also use repurposed materials, such as beams, doors, flooring and copper, which are still structurally sound and easier on the wallet.
You can also make sustainable improvements if you're a businessowner. In fact, consumers across multiple generations are willing to support eco-friendly businesses.4
Assess the efficiency of your business. Nearly every state has utility-sponsored programs to help companies become more energy-efficient and adaptable to climate change. They'll assess which appliances need updating, if you should switch to solar energy and which windows or pipes need maintenance. You can also choose reclaimed and eco-safe materials for any building updates. Whether you're the owner of a coffee shop or head of a real estate firm, making your business more environmentally friendly can be beneficial to your long-term success.
While property improvement is one significant way to make the shift towards sustainable living, how you get around also matters. Vehicles are one of the biggest detriments to the environment, being responsible for about 29%5 of total emissions.
Electric and hybrid vehicles have quickly become mainstream. They're not only environmentally friendly, but can also be more affordable. Based on a total mileage of 15,000 miles a year, a hybrid vehicle costs about $546 in fuel, while a gas-powered vehicle costs roughly $1,255.6 Maintenance could also be cheaper — based on manufacturer recommendations, gas-powered vehicles cost $330 more to maintain.6 For example, a gas-powered car battery lasts approximately three to five years and can cost up to $500 to replace.7 On the other hand, batteries for hybrid and electric vehicles can last between 15 and 20-years, but can cost upwards of $10,000 to replace.8 The good news is that they usually come with a 10-year or 100,000-mile warranty.8 On top of yearly fuel and maintenance savings, you can also receive a federal tax benefit of up to $7,500 if you purchased a new vehicle in 2010 or later.9 You can find out how much you can expect for a specific vehicle by visiting the U.S. Department of Energy listing site.
Also choose from electric bikes and scooters. Electric bikes and scooters can be significantly faster if you live in a city plagued by traffic. Bike lanes and designated routes have become a viable option for an easy, quick commute that doesn't harm the environment.
ROI
Your return on investment could surprise you. When considering lifestyle changes and building upgrades, your return on investment (ROI) is a big factor. For instance, homes with solar power can increase in value by up to $20 for every dollar saved on energy.10 And when you go solar, the power generated by the panels replaces the electricity you buy from the utility company, reducing or eliminating that bill entirely. If you opt for an electric or hybrid vehicle, fuel savings alone can be $6,000 or more over the lifespan of the vehicle.11 If you're a business owner, LEED buildings have almost 20% lower maintenance costs than typical commercial buildings and if you're a homeowner, energy efficient appliances can be 10% to 40% more efficient than standard appliances.12 If you're looking to renovate with salvaged materials, you can expect to buy them for sometimes 50% to 75% less than new materials.13 Calculating your ROI is unique to your circumstances but using an online calculator or speaking to a specialist can help you decide what upgrades make the most sense to your budget and financial strategy.
If you are contemplating pursuing a greener lifestyle, whether through investing in sustainable home improvements or purchasing a more efficient vehicle, there are various ways to fund these expenses. Below are a few options you may be able to consider, depending on your circumstances and overall financial objectives.
Pay with cash. If you're planning to sell investments to get that cash, but it's a volatile market, having an investment strategy that you're confident in is vital. However, if you prefer to stay invested for the long term, this may not be the best option for you.
Finance the purchase. If keeping your investment strategy and cash reserves in place is one of your financial objectives, you might want to explore financing. There are multiple ways to borrow. Two potential choices to consider include a Bank of America® Home Equity Line of Credit (HELOC), and a Loan Management Account® (LMA® account) which is a demand line of credit from Bank of America, N.A., as described below. Your Merrill advisor can discuss the range of funding options that may be available to you, including these two types of loans, to determine which one may be a good fit for your cash flow needs, time horizon, risk tolerance and other important factors.
| | | |
| --- | --- | --- |
| |   | Bank of America® Home Equity Line of Credit (HELOC) |
Allows you to borrow against your existing home equity, using the home as collateral.
Provides a revolving credit line with on-demand access to cash (up to your available credit limit during the draw period). /li>
Special rate discounts available.
No application fees, closing costs or annual fees.
Access funds online, by phone, at Bank of America financial centers or with no-access-fee checks.
| | | |
| --- | --- | --- |
| |   | Bank of America® Loan Management Account® (LMA® account) |
Allows you to borrow against accounts of eligible investments, using the assets as collateral.14
Access credit through variable or fixed-rate advances and standby letters of credit.
Flexible terms and repayment options, subject to required collateral maintenance requirements.
No application or annual fees.
Access funds through no-access-fee checks, free Fedwire or checking account transfers.
Funds can generally be accessed within one day of approval.
Learn more
Your Merrill advisor can help you understand the range of possible funding options that may be available to you, the associated risks and which could fit into your financial plan. Please carefully consider the Risks of Borrowing below and in the loan documents.
Risks of borrowing
LMA®
Securities-based financing involves special risks. You should review the LMA Loan Agreement and related documents and disclosures carefully and consult with your own independent tax and legal advisors.
A decline in the value of your collateral assets may require you to provide additional funds or securities to avoid a collateral maintenance call. You can lose more funds than are held in the collateral account. The LMA account is a full-recourse loan and you will be liable for any deficiency.
Bank of America, N.A. ("the Bank") can force the sale or other liquidation of any securities or other investment property in the collateral account and, unless otherwise required by law, can do so without first contacting you.
You are not entitled to choose which securities in the collateral account are liquidated or sold.
The Bank can change its collateral maintenance requirement at any time without notice to you.
You are not entitled to an extension of time to satisfy the Bank's collateral maintenance requirement.
There may be adverse tax or other consequences to you if securities are sold or otherwise liquidated by the Bank.
The LMA account is an uncommitted facility, although loans to individuals and trusts may be committed in an amount not to exceed $100,000. The Bank may demand full or partial repayment at any time and any commitment may be immediately terminated.
For fixed-rate advances and term loans, principal payments made in advance of the end of the applicable fixed-rate period, whether voluntarily or involuntarily, (due to demand or liquidation by the Bank,) may be subject to a substantial breakage fee as determined by the Bank.
Some restrictions on the use of LMA account proceeds may apply under the terms of the loan documents and applicable laws and regulations.
HELOC®
Interest rate risk — As a variable-rate loan, interest rates and payments can change. Clients should carefully consider these risks before borrowing.
Potential repayment volatility — For clients who opt for an initial interest-only period, at the end of this period, they will still owe the original amount borrowed, and the monthly payment will increase significantly and may result in "payment shock" — even if interest rates stay the same. If clients want to make interest-only payments, the advisor should discuss what the payments will be after the end of the interest-only period.
New to Merrill? Connect with a Merrill Advisor
A more personalized way to choose an advisor
Explore our other solutions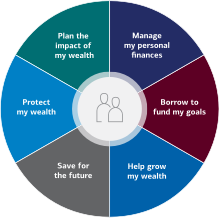 Whether you're defining goals, addressing change or figuring out how to move forward, Merrill and Bank of America offer a wide range of solutions to help you take the next step and stay on track.
Investment Strategy Overview

Weathering the ups and downs of the markets
Looking for an advisor?
All our advisors are committed to putting your needs and priorities first.
Loading...
Merrill Advisor Match is a more
personalized way to
choose an advisor.
Or if you prefer,
we can have an
advisor contact you.
1 "Earth Tones and Eco-friendly Features Top Zillow's 2022 Home Trends," November 30, 2021, https://zillow.mediaroom.com/2021-11-30-Earth-Tones-and-Eco-friendly-Features-Top-Zillows-2022-Home-Trends.
2 "Solar Industry Research Data," https://www.seia.org/solar-industry-research-data as of October 2022.
3 "Update or replace windows," https://www.energy.gov/energysaver/update-or-replace-windows. as of October 2022.
4 "Consumers Demand Sustainable Products And Shopping Formats," https://www.forbes.com/sites/gregpetro/2022/03/11/consumers-demand-sustainable-products-and-shopping-formats/?sh=40ece3bd6a06 as of March 2022.
5 "Carbon Pollution from Transportation," https://www.epa.gov/transportation-air-pollution-and-climate-change/carbon-pollution-transportation as of October 2022.
6 "Electric Vehicle Owners to the World – Going Green is Not as Scary as You Think," https://www.aaa.com/autorepair/articles/true-cost-of-ev as of October 2022
7 How much does it cost to replace a car battery, Jeffrey Ross, April 29, 2022, https://www.fixdapp.com/blog/cost-to-replace-car-battery/.
8 How Much Do EV Batteries Cost, Chris Teague, July 1, 2022, https://www.autoweek.com/news/a38658350/how-much-do-ev-batteries-cost/.
9 "Federal Tax Credits for New All-Electric and Plug-in Hybrid Vehicles," https://www.fueleconomy.gov/feg/taxevb.shtml as of October 2022.
10 The Value and Cost of Solar Electricity, US Department of Energy, https://www.nrel.gov/docs/fy08osti/42733.pdf as of October 2022.
11 Electric Vehicle Ownership Costs, October 2020, https://advocacy.consumerreports.org/wp-content/uploads/2020/10/EV-Ownership-Cost-Final-Report-1.pdf as of October 2022.
12 ENERGY STAR Appliances Brochure, https://www.energystar.gov/sites/default/files/tools/ENERGY%20STAR%20Appliances%20Brochure_508.pdf as of October 2022.
13 How to Find Reclaimed Home Building Materials, https://elemental.green/how-to-find-reclaimed-home-building-materials/ as of October 2022.
14 The Loan Management Account (LMA account) is a demand line of credit provided by Bank of America, N.A., Member FDIC. Equal Opportunity Lender. The LMA account requires a brokerage account at Merrill Lynch, Pierce, Fenner & Smith Incorporated and sufficient eligible collateral to support a minimum credit facility size of $100,000. All securities are subject to credit approval and Bank of America, N.A. may change its collateral maintenance requirements at any time. Securities-based financing involves special risks and is not for everyone. When considering a securities-based loan, consideration should be given to individual requirements, portfolio composition and risk tolerance, as well as capital gains, portfolio performance expectations and investment time horizon. The securities or other assets in any collateral account may be sold to meet a collateral call without notice to the client, the client is not entitled to an extension of time on the collateral call and the client is not entitled to choose which securities or other assets will be sold. The client can lose more funds than deposited in such collateral account. The LMA account is uncommitted and Bank of America, N.A. may demand full repayment at any time. A complete description of the loan terms can be found within the LMA account agreement. Clients should consult their own independent tax and legal advisors. Some restrictions may apply to purpose loans and not all managed accounts are eligible as collateral. All applications for LMA accounts are subject to approval by Bank of America, N.A.
Banking, mortgage and home equity products offered by Bank of America, N.A., and affiliated banks, Members FDIC and wholly owned subsidiaries of Bank of America Corporation.

Equal Housing Lender.  Credit and collateral are subject to approval. Terms and conditions apply. This is not a commitment to lend. Programs, rates, terms and conditions are subject to change without notice.​