Approximately 70% of Americans who are currently age 65 or older will require some type of long-term care during their lifetime.1
Over the last few decades life expectancies have increased, giving many Americans a retirement that can last 30 years or more. Increasing longevity has resulted in longer, more fulfilling retirements, but has also led to more complications from unexpected health costs that can derail even the most well thought out plans.  Developing a plan to address this risk can be an important part of your overall financial strategy.
What is long-term care?
Long-term care can be as simple as assistance with a range of daily living tasks such as walking, eating and bathing. In other instances, long-term care may mean sustained treatment for cognitive conditions, like Alzheimer's. While a short term need for help or a limited visit to a rehabilitation facility will generally be covered by Medicare or traditional health insurance policies, a long-term care event is usually not covered and can have significant impact on your family. Therefore it's important to think about the many questions that will have to be answered before you face a long-term care need: Who will be your primary caregiver? Where do you want to receive care? And how will your health and care needs impact your family and your finances?
Switch to Accessibility Friendly View
Caregiving by the numbers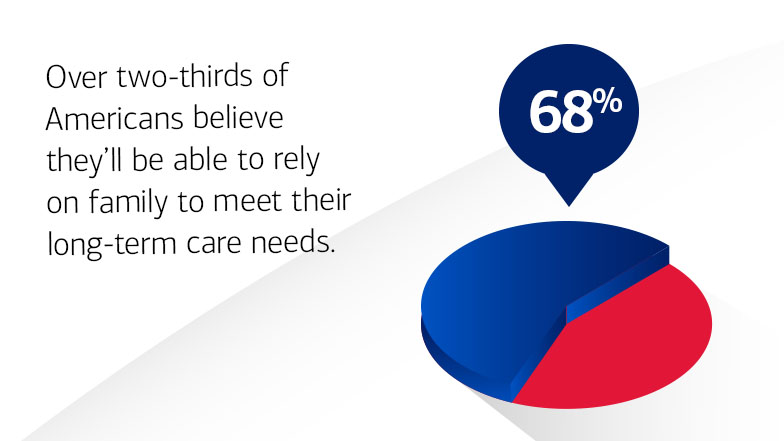 When asked, more than two-thirds (68%) of Americans believe that they will be able to rely on their families to meet their long-term care needs when they require help.2
While many can depend on this support, when the need becomes too great, only one-third of adults over 40 say they have money set aside to pay for their long-term care.3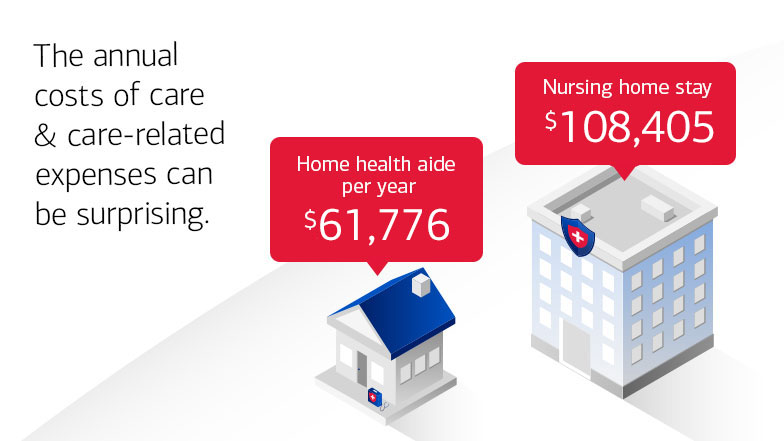 And the biggest surprise of caregiving can actually be how much care and care-related expenses cost. The average annual cost for a nursing home stay is $108,405 (as high as $378,140 in some states) and the average cost for a home health aide is $61,776 a year for 40 hours a week.4
Making a plan
Just like any other risk, it's important to think about your options for covering long-term care expenses and develop a plan. There are two approaches to consider. First, you can self-insure by managing the risk inside your portfolio. To be successful in this approach, you should establish a clear goal for how much you will need to set aside to cover long-term care expenses and invest that money more conservatively in order to ensure it is available when you need it. Your investments will be subject to market risk and you run the risk of expenses outpacing the amount you set aside.
The second approach is to transfer the risk to an insurance company through the purchase of a long-term care insurance product. Long-term care insurance can help you protect your wealth while also reducing the potential burden you place on your family. When structured properly, long-term care insurance can help ensure that you'll have access to high-quality care should you ever need it, without having to spend your life's savings to pay for it.
Understand your long-term care insurance5 options
When considering long-term care insurance, it is important to understand the breadth of options you have available to fit your individual needs and preferences. The following types of long-term care coverage are available through Merrill:
Hybrid life insurance with a long-term care benefits rider
A life insurance policy that provides long-term care benefits if you need them
Long-term care benefits can be less generous than traditional long-term care insurance6
Unused benefits are paid out to beneficiaries as a death benefit
Premiums may be paid over time or all at once in a single premium payment when the policy is purchased. In designs where premiums are guaranteed, they will not increase.
Streamlined underwriting process may be available
---
Permanent life insurance with a long-term care benefits rider
A life insurance policy with a death benefit which also has a rider that provides access to a percentage of the death benefit to cover long-term care expenses
Beneficiaries receive any remaining unused death benefit
Premiums may be paid over time or all at once in a single premium payment when the policy is purchased. In designs where premiums are guaranteed, they will not increase.
Underwriting required
Part of your larger financial strategy
You've worked hard to build your wealth for a more secure future. As you approach retirement, protecting that wealth becomes even more important than building it. A financial strategy that addresses healthcare costs — both those you expect and those that are less predictable, such as the need for long-term care — may help protect your assets, reduce the burden on your family should you need care and enable you to leave a more meaningful legacy for your heirs.

Things to consider
Is there a high degree of certainty that you will need long-term care based on your family history or do you want protection with more flexibility in case you don't?

Think about whether you need long-term care protection for yourself and your spouse.

Do you have questions about whether you are eligible to purchase insurance due to your health conditions or medications?
Explore our other solutions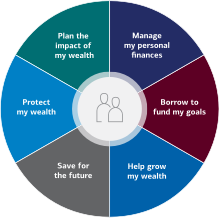 Whether you're defining goals, addressing change or figuring out how to move forward, Merrill and Bank of America offer a wide range of solutions to help you take the next step and stay on track.
Looking for an advisor?
All our advisors are committed to putting your needs and priorities first.
Loading...
Merrill Advisor Match is a more
personalized way to
choose an advisor.
Or if you prefer,
we can have an
advisor contact you.
1 National Clearinghouse for Long-Term Care Information, U.S. Department of Health and Human Services, "How Much Care Will You Need?" Accessed 3/30/23. https://acl.gov/ltc/basic-needs/how-much-care-will-you-need.
2 90% of those who receive long-term care assistance live at home or in a community setting. Source: Edem Hado and Harriet Komisar, "Long-Term Services and Supports." AARP Public Policy Institute, August 2019
3 61% of caregivers are women. The number of Americans providing unpaid care has increased over the last five years from 18% in 2015 to 21% in 2020. Source: Caregiving in the U.S. 2020, National Alliance for Caregiving and AARP, Washington D.C .
4 Genworth 2021 Cost of Care Survey: Home Care Providers, Adult Day Health Care Facilities, Assisted Living Facilities and Nursing Homes. Accessed 3/30/23. https://www.genworth.com/aging-and-you/finances/cost-of-care.html
5 Insurance and annuity products offered through Merrill Lynch Life Agency Inc.
6 Traditional long-term care insurance is a policy dedicated to long-term care needs and offers the most comprehensive coverage; but is available only from a small number of insurance companies and is not currently offered through Merrill.
This material should be regarded as general or educational information on Healthcare/Medicare considerations and is not intended to provide specific healthcare/Medicare advice. If you have questions regarding your particular situation, please contact your legal or tax advisor.
Long-term-care insurance coverage contains benefits, exclusions, limitations, eligibility requirements and specific terms and conditions under which the insurance coverage may be continued in force or discontinued. Not all insurance policies and types of coverage may be available in your state.
All guarantees and benefits of the insurance policy are backed by the claims-paying ability of the issuing insurance company. They are not obligations of, nor backed by, Merrill or its affiliates, nor do Merrill or its affiliates make any representations or guarantees regarding the claims-paying ability of the issuing insurance company