Funding the retirement you envision takes planning
Whether you are still saving for retirement or shifting your focus from building wealth to generating retirement income, it's important to think about how much your chosen retirement lifestyle will cost and ultimately how you will fund that lifestyle. At Merrill, we believe it starts with a disciplined retirement income plan built around your goals and priorities.
We can help you define your retirement income goals and set priorities, including establishing a goal for essential day-to-day expenses that is separate and distinct from goals for more important and aspirational expenses. This allows us to help you align your income sources and retirement savings to each goal. This process can help you increase the chances of achieving your goals and help your retirement savings last a lifetime.
The role of annuities in a retirement portfolio
An annuity is a contract with an insurance company that is specifically designed for retirement purposes. When you purchase an annuity, you make a payment to an insurance company, that, in turn, agrees to pay out an income stream or a lump-sum amount at a future date. When used as part of your retirement portfolio, an annuity may provide you: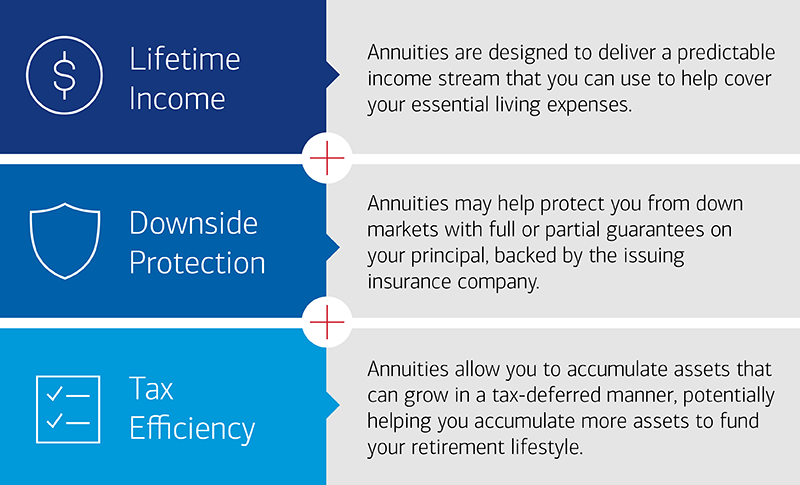 When used for income, an annuity can add an element of predictability to your portfolio and help you better weather a variety of market conditions over a retirement that may last 30 years or more. Combined with other predictable income streams, like Social Security and pension income, an annuity can help give you the confidence that you will be able to meet your essential day-to-day expenses throughout your retirement. Annuities can also provide married couples with an important income stream that will continue after one spouse has passed away. A careful evaluation of your retirement income sources and projected expenses can help you determine if an annuity might be appropriate.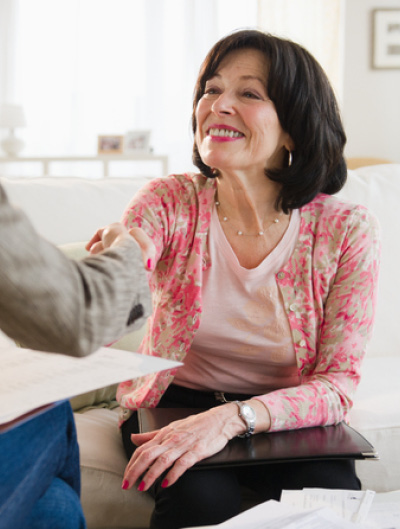 It all starts with a conversation
Talk to your Merrill advisor about the role annuities might play in your retirement plan. Your advisor will work with you to assess your goals, risk tolerance, investing style, time horizon and liquidity requirements to find an appropriate income strategy to meet your needs and review your strategy periodically to help you stay on track towards your goals.
3 Questions to Ask Your Advisor
How do I ensure I'll have enough income in retirement to cover my day-to-day expenses?
What if the market goes down? Will I have enough money to live the retirement I envision?
How can I increase my tax-deferred savings?
Connect with an advisor and start a conversation about your goals.
1.866.706.8321


9am - 9pm Eastern, Monday - Friday
Have questions for your financial advisor?
Connect with to continue the conversation.
All annuity contract and rider guarantees, or annuity payout rates, are backed by the claims-paying ability of the issuing insurance company. They are not backed by Merrill or its affiliates, nor does Merrill or its affiliates make any representations or guarantees regarding the claims-paying ability of the issuing insurance company.