Personal real estate may be among your most significant assets, and how you finance it can have a substantial impact on your financial strategy. By taking an integrated approach to home financing, you can be better positioned to pursue homeownership and other financial goals.  A Merrill advisor and a Bank of America lending specialist will work together to help you find the right solution. View the e-brochure or video below to learn more about Bank of America home financing solutions.
A more personalized way to choose an advisor
Explore our other solutions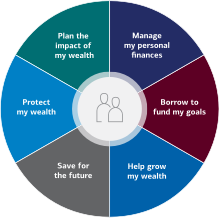 Whether you're defining goals, addressing change or figuring out how to move forward, Merrill and Bank of America offer a widge range of solutions to help you take the next step to stay on track.
Financing options for buying a home, renovating or helping a loved one pursue home ownership
Looking for an advisor?
All our advisors are committed to putting your needs and priorities first.
Loading...
Merrill Advisor Match is a more
personalized way to
choose an advisor.
Or if you prefer,
we can have an
advisor contact you.
Banking, mortgage and home equity products are provided by Bank of America, N.A., and affiliated banks, Members FDIC, and wholly owned subsidiaries of BofA Corporation ("BofA Corp.").

Equal Housing Lender.
Credit and collateral are subject to approval. Terms and conditions apply. This is not a commitment to lend. Programs, rates, terms and conditions are subject to change without notice.