You likely spend a lot of time thinking about how to maximize your wealth. Where will it get the best return? How will it serve your financial goals? But have you ever considered its larger purpose?
Wealth Impact Planning is designed to help you think about your wealth through the lens of your values — how it might affect your family, benefit the causes you care about, and shape your legacy during and beyond your lifetime. It's a critical exercise, regardless of where you are on life's journey — and we'll be beside you throughout the process to create a flexible plan that fits your needs and goals.
Take control of your wealth – and its future
Wealth Impact Planning helps you structure your wealth in a way that ensures your loved ones are cared for and your legacy is defined — with strategies in place to allow for the continuity of your wealth in the way you imagined. We offer access to capabilities that range from trust and estate planning services and wealth structuring guidance to philanthropic and fiduciary solutions, offered through Bank of America N.A. can help:
Preserve your wealth by providing tax minimization strategies and managing your expenses
Protect your wealth from unforeseen risk
Control how your wealth is deployed — and which people and causes will benefit
Whether you're planning for retirement, giving philanthropically, or hoping to distribute your wealth in a tax-efficient manner, we'll work with you to determine the solutions that make the most sense for your unique circumstances.
An ongoing process, personalized for you
To create a plan that best serves the people and causes that matter to you, your advisor will walk you through the following process:
Discovery and planning: Defining your values and goals — engaging specialists as needed
Optimization: Considering how to optimize your plan to help ensure it serves both your short and long-term needs
Ongoing collaboration: Evolving your plan to reflect your life changes through regular-check-ins
A more personalized way to choose an advisor
Explore our other solutions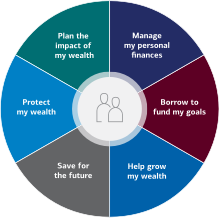 Whether you're defining goals, addressing change or figuring out how to move forward, Merrill and Bank of America offer a wide range of solutions to help you take the next step and stay on track.
Looking for an advisor?
All our advisors are committed to putting your needs and priorities first.
Loading...
Merrill Advisor Match is a more
personalized way to
choose an advisor.
Or if you prefer,
we can have an
advisor contact you.