Pursuing your goals requires having a plan in place—an overall strategy that manages both your assets and liabilities together. Because your wealth may come in many different forms, you should think beyond your investments when managing your finances.
Financing for your situation
It is important to remember that you have options when it comes to funding your goals and Custom lending solutions offered by Bank of America may be able to help you. Borrowing can be a powerful tool to gain access to liquidity and can also allow you to use a wide range of collateral options, including:
Marketable securities

Investor commercial real estate

Recreational real estate, including ranches and vineyards

Hedge fund positions

Fine art collections

Yachts

Intellectual property, such as music catalogs or film rights

Aircraft

In some instances, unsecured lending may be available.
Lending of this nature is tailored to your liquidity needs and financial situations. It may be used to fund real estate investments, luxury purchases, business opportunities or even large, unexpected expenses. Best of all, smart use of borrowing can help you stay on track and maintain a disciplined approach to managing your wealth while still giving you access to cash when you need it.
Incorporating credit into your wealth management strategy
We welcome the opportunity to discuss how a custom lending solution may help you reach your goals. We can work with a Bank of America Credit Executive to explore all of your lending options and evaluate how lending may enhance your broader financial strategy.
Learn more
Talk to your Merrill advisor to discuss whether our customized lending program might be appropriate for you.
Things to consider:
Do you need to generate liquidity to make a business investment?

Are you looking to reduce the borrowing costs of investor commercial real estate?

Do you own an aircraft or a yacht?
A more personalized way to choose an advisor
Explore our other solutions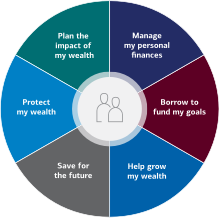 Whether you're defining goals, addressing change or figuring out how to move forward, Merrill and Bank of America offer a wide range of solutions to help you take the next step and stay on track.
Looking for an advisor?
All our advisors are committed to putting your needs and priorities first.
Loading...
Merrill Advisor Match is a more
personalized way to
choose an advisor.
Or if you prefer,
we can have an
advisor contact you.
Custom lending may involve special risks and may not be appropriate for all clients. In particular, Custom lending may be subject to additional credit and legal approval because of special risks and restrictions that need to be carefully considered. Real estate financing and specific program options and property types may not be available in all states and may be subject to change from time to time. As a general rule with respect to each client, consideration must be given to capital gains tax implications, portfolio makeup and risk tolerance, portfolio performance expectations, and investment time horizon.
Securities-based financing involves certain risks. We can help you take into account your individual requirements, portfolio composition and risk tolerance, as well as capital gains taxes, portfolio performance expectations and investment time horizon. Securities-based financing may not be suitable for all clients. The loan is secured by assets in your Merrill Lynch account(s). Market fluctuations may result in a collateral call, and you may need to deposit additional cash and/or securities to meet the call or risk liquidation of your securities at an unfavorable price. In some cases, the securities pledged as collateral may be liquidated. Among other things, this may have negative tax implications for you, especially if the liquidation price of the securities liquidated exceeds your basis. The firm can sell your assets to meet a collateral call without notifying you, and you are not entitled to choose which securities in the account will be sold. You are not entitled to an extension of time to meet a collateral call.
Derivatives are complex instruments that are not suitable for every investor, may involve a high degree of risk, and may be appropriate investments only for sophisticated investors who are capable of understanding and assuming the risks involved. Clients must be options-approved.
Hedging and monetization strategies can result in higher return potential but also higher loss potential. Prospective investors are required to meet certain qualifications and acknowledge they understand the risks associated with certain hedging and monetization strategies that may not be suitable for all investors.
Credit facilities are provided by Bank of America, N.A., Member FDIC, its subsidiaries or other bank subsidiaries of Bank of America Corporation, each an Equal Opportunity Lender. All loans and collateral are subject to credit approval and may require the filing of financing statements or other lien notices in public records. Asset-based financing involves special risks and is not for everyone. When considering an asset-based loan, consideration should be given to individual requirements, asset portfolio composition and risk tolerance, as well as capital gains, portfolio performance expectations and investment time horizon. A complete description of the loan terms will be found in the individual credit facility documentation and agreements. Clients should consult with their own independent tax and legal advisors.