OLDER AMERICANS ARE USING THEIR MOBILE devices not just to network with professional colleagues via LinkedIn or to keep up with friends and family via Facebook and Twitter. They're also using them to stay connected with their finances and their Merrill Lynch Financial Advisor, as well as to keep an eye on the markets, deposit their checks and adjust their investment strategies — even when they're traveling abroad or summering in a different part of the country. In fact, "baby boomers are the fastest growing group of social media users," says Joseph Corriero, head of Digital Marketing at Bank of America Merrill Lynch.
Here are some ways Merrill Lynch is making it easier than ever for you to keep tabs on your financial information. "The goal behind all of these services is to be as mobile and flexible as you are," Corriero says, "and to make sure you have a direct connection to the thought leadership of Merrill Lynch, whether you're around town or around the world."
Twitter. Check out the Merrill Lynch Twitter handle (www.twitter.com/MerrillLynch) for breaking news, insights, and links to in-depth articles and videos.
YouTube. Use the Official Merrill Lynch Channel (www.youtube.com/merrilllynch) to view educational seminars and videos featuring real-life clients.
LinkedIn. The social media mainstay that made its name connecting business professionals with one another is now a great way to find the latest news about Merrill Lynch. Just add Merrill Lynch to the companies you follow on LinkedIn.
Merrill Lynch Mobile Capabilities
---
Watch the video to learn about the MyMerrill mobile app
Learn more about our mobile app features
Touch ID for mobile security
Sign in without needing a password
Mobile check deposit
Deposit your check without the trip to the branch
Access anytime, anywhere—see your Merrill Lynch® investment and Bank of America® bank accounts online and on your mobile device. The MyMerrill app gives you access to the tools to help you make more informed investing decisions on your iPhone®, iPad® or Android™device.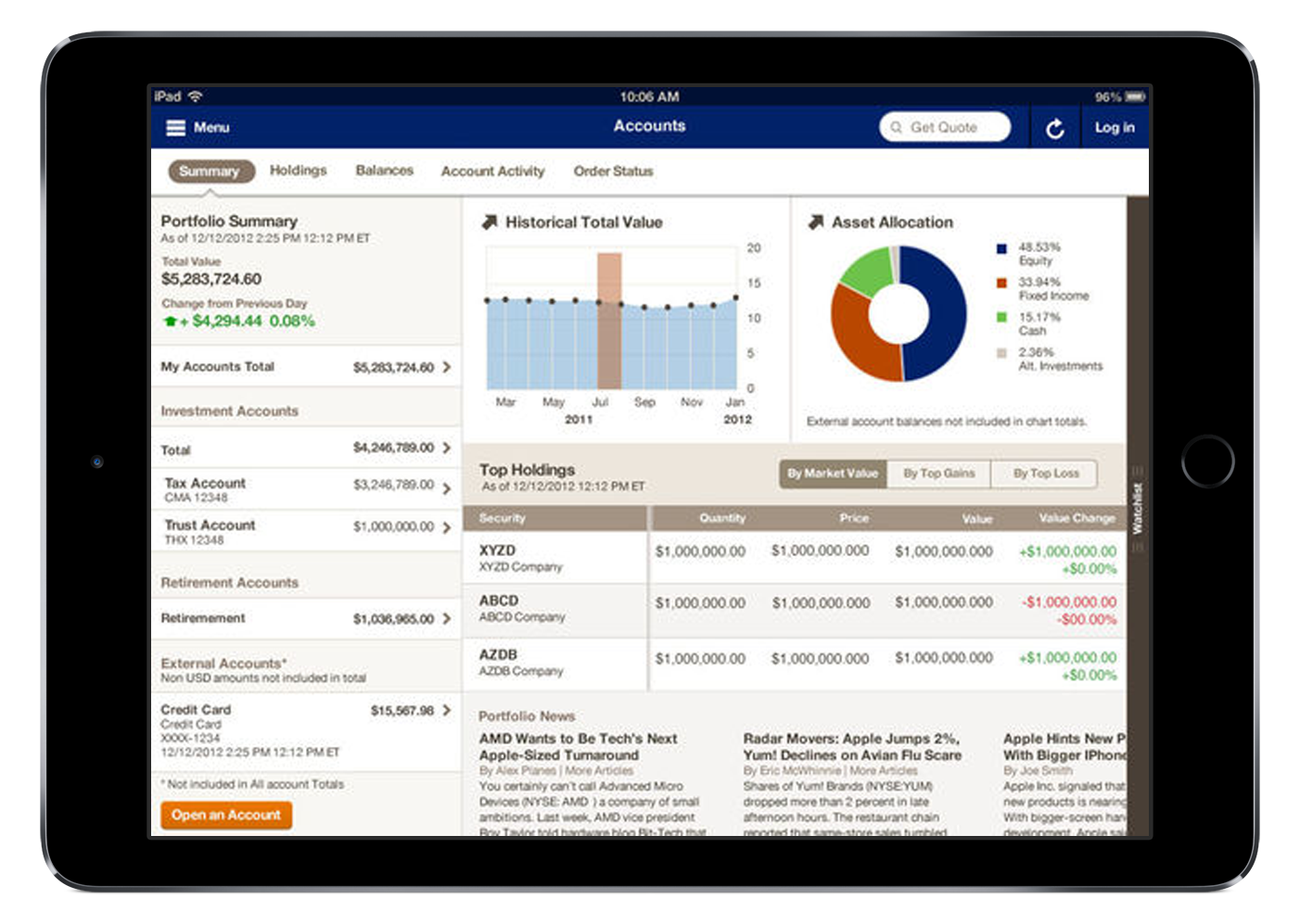 Convenient access to your investment and banking accounts
See your linked Bank of America banking and Merrill Lynch investing account balances—all in one place. Check balances, account activity and holdings, including pending and past transactions. View asset allocation and historical performance information.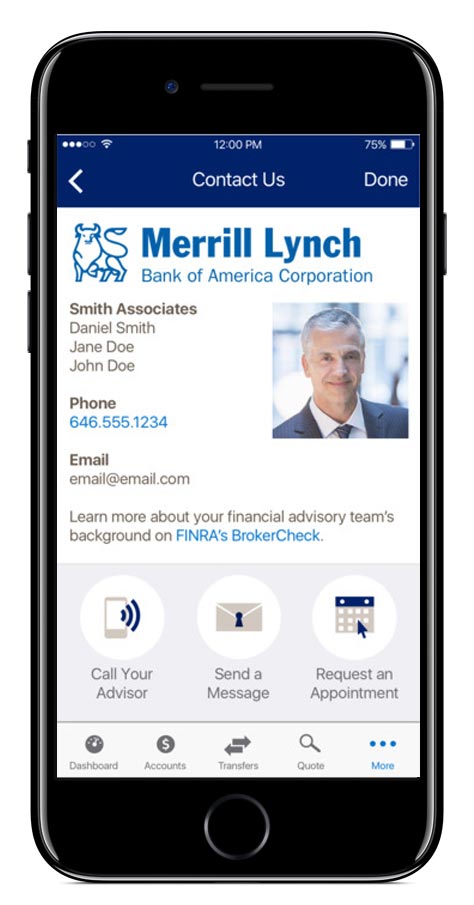 Connect securely with your advisor
Access the Secure Message Center on the MyMerrill app to send and receive messages, view appointment requests, and manage your task list.
Touch ID
Log in with the touch of a finger to access your accounts faster than ever.1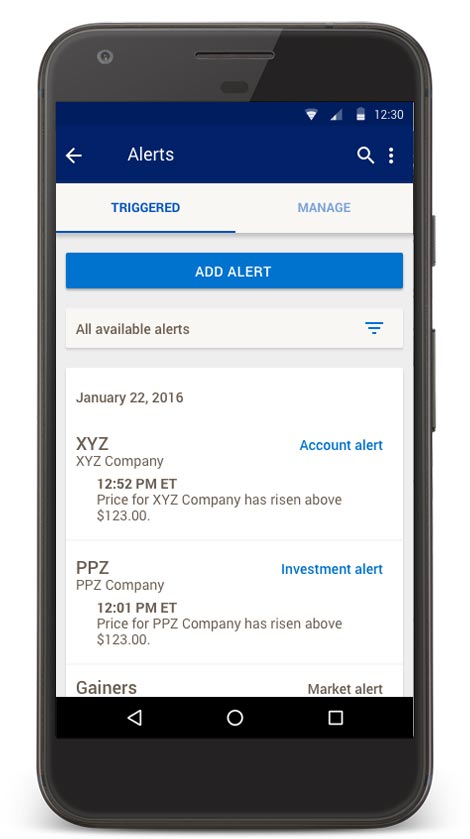 Stay informed with alerts and watchlists
Set alerts to help you stay on top of your investing accounts and securities. Monitor, manage and create new watchlists on your device.
Follow the market
Get the latest quotes, analysts' ratings and up-to-the-minute news headlines.
Move money easily
Deposit checks into your Merrill Lynch account using your phone's camera — no more trips to the branch. Pay bills from your Merrill Lynch account. Transfer funds between your linked Merrill Lynch and Bank of America accounts. Make cash or wire transfers between Merrill Lynch and accounts at other financial institutions.
Connect with an advisor and start a conversation about your goals.
Give us a call at
1.866.706.8321
9am - 9pm Eastern, Monday - Friday
Have questions for your financial advisor?
Connect with to continue the conversation.