WEDDING PROTOCOL USED TO BE so much simpler. Take the dress, for instance. According to 46% of Americans polled by Harris, white is on its way out.1
And then there's the all-important matter of who pays. A generation ago, the answer was obvious—the bride's parents got the bill. But demographic and social changes have long upended that rule.
Today, only about 8% of traditional weddings receive no financing from the couple themselves, according to The Knot 2016 Real Weddings Study, with the bride's parents contributing an average of 44% to the overall budget. Men and women are staying single longer—the average age has climbed to 29 for first-time brides, and 31 for first-time grooms.
Costs can drop by simply shifting the wedding to a Thursday, Friday, Sunday or holiday weekend.
Having waited until they're established in their careers before exchanging vows, today's couples are often willing and even eager to foot a portion, if not all, of their wedding bill. In fact, these days, roughly 10% of weddings are paid for by the bride and groom alone. For same-sex weddings, that percentage runs as high as 74%, according to the Gay Wedding Institute.
Paying their own way gives couples more power to call the shots, after all. And with the average cost of a wedding running more than $35,000, any financial contribution from the kids comes as a relief to many parents. The groom's parents, assorted relatives, even friends, often chip in to help foot the bill.
"If you intend to share expenses, sit down with both sets of parents soon after you announce your engagement and discuss how you're going to divvy up the expenses," says Stacy Allred, managing director and head of Merrill Lynch Strategic Wealth Advisory Services. Parents with more than one child should keep in mind, too, that they may be setting a precedent. "Kids often keep mental calculators of what Mom and Dad spend on their siblings," adds Allred.
Sharing expenses certainly can help take the stress out of planning for the big event. But there are many other relatively simple and surprising ways to reduce costs, no matter who pays. For suggestions, we recently checked in with several wedding experts. Here's their best advice.
Timing Is Everything
Consider holding the wedding on a day other than Saturday. Costs can drop by simply shifting the wedding to a Thursday, Friday, Sunday or holiday weekend. Also look into seasonal pricing—a February ceremony, for instance, can result in substantial savings.
Trim the Guest List
Your heart might be saying "Money is no object," but listen to your head and look for ways to trim costs. The fastest—although not the easiest—way to do that is to shorten your guest list. In addition to cutting costs per head, you're also reducing the number of tables, which saves on things like centerpieces.
Pick Your Venue Carefully
Respecting a budget sometimes can mean making uncomfortable decisions. When bridal consultant Gloria Boyden, a Master Wedding Planner with the Association of Bridal Consultants, planned her own daughter's wedding, the family had two choices—either a smaller event in downtown Chicago or a bigger wedding at a more affordable but beautiful venue in northwest Indiana. "We wanted everybody there, so we chose Indiana," Boyden says.
Do Sweat the Small Stuff
Little trade-ups can add up to thousands of dollars. Ask yourself: Do you really need a limo or horse-drawn carriage to get you from the church to the reception, or will a friend's nice car do just as well? Do you need waiter service, or will a buffet-style meal suffice? Can you cut one or two people from the wedding party without hurting anyone's feelings? Go down your budget line by line and think about whether there's a more cost-effective way to do things without putting a damper on the event.
Be Ready to Make Some Trade-Offs
With so many moving parts to a wedding, you will almost certainly find yourself in financial quicksand if you don't stick to your budget—and that's a sure way to sow family discord. One way you can get a handle on costs is to prioritize and be willing to make trade-offs, says Micki Novak, executive director of the American Association of Certified Wedding Planners.
"Some people want to have a specific menu or top-notch photography," says Novak. For every aspect of the wedding that you check off as important, find another one you can economize on.
Do You Really Need Another Silver Candelabra?
Most wedding guests are aware of, and sympathetic to, the cost of staging the event. And more of them than you might think would be happy to help you defray your costs, instead of buying you one more set of crystal stemware or a slow cooker you may never use.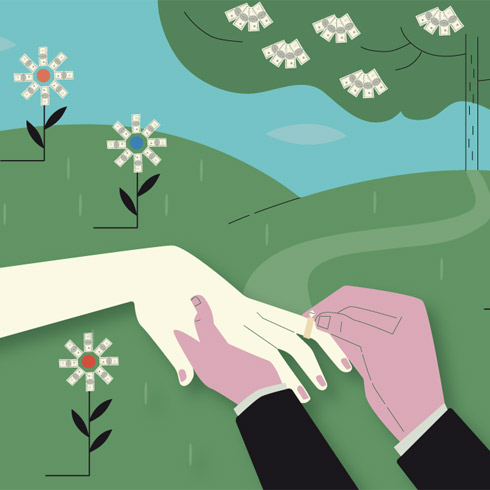 MORE INSIGHTS
Read "Newlyweds' Financial Guide" for tips on managing your money as a couple.
Read More
If you're concerned that you might offend your guests by asking outright for a cash gift, add a site such as tendr.com to your wedding registry. This site and a handful of others like it allow invitees to send e-cards with money to put toward your honeymoon, a down payment on your first home or the cost of the wedding itself.
Above and beyond the cost of the wedding, finances are top of mind as a young couple prepares to walk down the aisle and create a financial life together, says Allred. "Parents and future in-laws who want to guide their kids to something of lasting value might even encourage some premarital sessions with a financial advisor so that they can develop a shared approach to their financial lives," she adds.
Rock Your Vows!
You want your wedding to be wonderful and memorable. But, says Novak, "a wedding isn't just about the ceremony or the reception. In fact, it's not about anything material. What matters most of all is the couple's commitment to each other." So, rock your vows, and keep them in your hearts every day.
3 Questions to Ask Your Advisor
How much can I realistically spend on my wedding?
Can I use a portion of my portfolio to pay for my wedding?
How can I best broach my wedding costs with my family?
Connect with an advisor and start a conversation about your goals.
Give us a call at
1.866.706.8321
9am - 9pm Eastern, Monday - Friday
Have questions for your financial advisor?
Connect with to continue the conversation.