CHANCES ARE YOU'VE GOT A WEDDING on your calendar this year. What are you going to give the happy couple? Wedding registries, which make it easy to give gifts that couples want to receive, made their first appearance in the 1920s, when a major department store introduced the first one. The newest trend in gift registries are online services, like tendr.com and honeyfund.com, which allow couples to register to receive cash. Another alternative to gift registries is Zelle® — a service available on the Bank of America and Merrill Lynch mobile apps — which makes it easy to send cash directly to the couple.
"There's no harm in asking for money. Starting a new life is tough; there are a lot of expenses."
—Karen Burns, Head of Behavioral Finance and Goals-Based Consulting, Merrill Lynch
As with so many things, what seems new often isn't. "Giving money to people who are getting married has always been appropriate," says Karen Burns, head of Behavioral Finance and Goals-Based Consulting at Merrill Lynch Wealth Management. "What is new—and I think it's fantastic," says Burns, "is that these registries give people a chance to stop dancing around the topic and be transparent. There's no harm in asking for money. Starting a new life is tough; there are a lot of expenses."
Couples generally use cash registries, and their group-gifting capabilities, to fund everything from their honeymoon to a down payment on a home—and even, in some cases, the wedding itself. Some, particularly older couples who already have their financial lives in order, ask guests to contribute to a favorite charity via their wedding registries. Whatever you decide to give the newlyweds you know, send along the tips below as a "gift."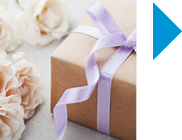 TIPS TO START YOUR (FINANCIAL) LIFE TOGETHER
✔  "Newlyweds Financial Guide
✔  "Are You Ready to Buy Your First Home?
✔  "The Things They Never Tell First-time Parents
✔  "Can a Marriage of (Financial) Opposites Last?

3 Questions to Ask Your Advisor
How can we make the most of our separate retirement accounts at work?
What other priorities should we consider as we build our financial future together?
Does it make more sense for us to keep separate or joint spending accounts?
Connect with an advisor and start a conversation about your goals.
Give us a call at
1.866.706.8321
9am - 9pm Eastern, Monday - Friday
Have questions for your financial advisor?
Connect with to continue the conversation.