As the graphic below illustrates, dividends could help boost the total return you receive from an investment in a stock, stock mutual fund or Exchange-Traded Fund. In this example, the S&P 500—a key benchmark for U.S. equities—returned 168 percent on a price basis during a recent 20 year period. But add in reinvested dividends and the total return increased to 288 percent.1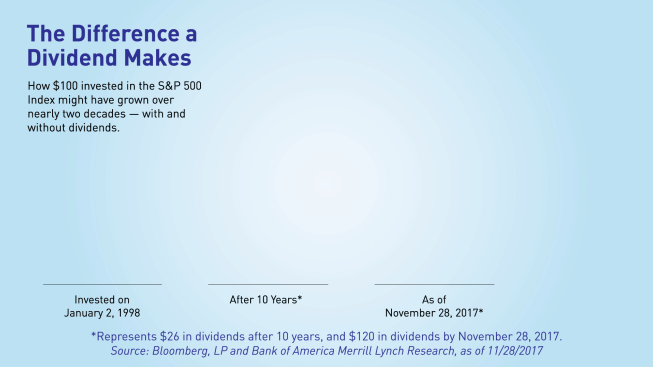 Past performance does not guarantee future results.
Dividend payments are not guaranteed. The amount of a dividend payment, if any, can vary over time.
3 Questions to Ask Your Advisor
Could dividend-paying stocks help me meet my need for investment income, while also providing me with some growth?
How can I tell which companies could be growing their dividends over time?
What companies or sectors typically offer the highest dividend yields to their shareholders?
Connect with an advisor and start a conversation about your goals.
Give us a call at
1.866.706.8321
9am - 9pm Eastern, Monday - Friday
Have questions for your financial advisor?
Connect with to continue the conversation.
1 Source: Bloomberg, LP and Bank of America Merrill Lynch Research, as of 11/28/17