ON-SITE YOGA CLASSES. Subsidized gym memberships and bike-share programs. Free activity trackers. Smoking-cessation programs. These are just a few of the preventive-care health benefits that many companies now offer their employees in addition to health insurance coverage.
Research shows that a healthier, less stressed workforce is a more productive workforce. But the benefits can add up for you, too: The longer you stay healthy, the lower your lifetime health-care costs might be. So if your company offers yoga classes at lunchtime, start practicing your lotus pose. Take advantage of any preventive health benefits your employer offers that seem appropriate for you.
The Annual Health Benefits Checkup
You may also find significant savings by reviewing your current health benefits to determine whether you've made the right choice.
Making this decision isn't a once-and-done deal, completed when you're first hired. You have a chance to update your selections every year, and you can also review and change your selections for certain life changes—for example, if you've recently walked down the aisle or you're about to become a parent.
The guide that follows should help you figure out how to make the most of the health benefits your company offers.
Your Plan or Your Spouse's?
Because health insurance premiums can be expensive, you want to find the sweet spot between sufficient coverage and over-insuring, says Roger W. Gray, Director, Health Benefit Solutions at Bank of America Merrill Lynch. The first step in making your selection is to consider your health history and your family situation, he says. A young single person with no history of chronic illness can generally afford to choose a higher-deductible plan, which means lower premiums. But for parents with young children, the decision may require a little more thought.
"If both you and your spouse have employer-provided health insurance, compare benefits and premiums with your family's particular health history and needs in mind," says Gray. As you compare, ask yourself these two questions.
First, what's the deductible—that is, the amount you'll pay for covered services before the insurer picks up the cost? "With a lower deductible, you will pay higher premiums. If you and your family are reasonably healthy and don't think you'll reach the deductible, you might want to choose the plan with the higher deductible and put the money you've saved with the lower premium into a health savings account (HSA), where the money has the potential to grow," suggests Gray.
That's because the HSA account is interest bearing. And if you're depositing more than $1,000 into an HSA, you may choose to invest that money in mutual funds. But you can open an HSA only if your health plan is a qualified high-deductible plan—for 2018, that's any plan with a deductible of at least $1,350 for individuals and $2,700 for a family.
The second question: What's the out-of-pocket maximum? For a qualified high-deductible plan, it's $6,650 for individuals and $13,300 for families in 2018. "The out-of-pocket max—or the highest total amount you'll be expected to cover every year—should be part of your evaluation," Gray says. "Consider how likely you are to be racking up medical expenses."
One of you may have the option of a PPO (preferred provider organization) plan—which offers a lower deductible and a lower out-of-pocket maximum but also has co-payments and higher premiums. If you're planning on having a baby, expecting to need surgery, or anticipating that your active kids will be paying visits to the ER, a PPO might help you keep your annual out-of-pocket expenses down, Gray says. "But if that's your choice," he adds, "you won't be eligible to open an HSA."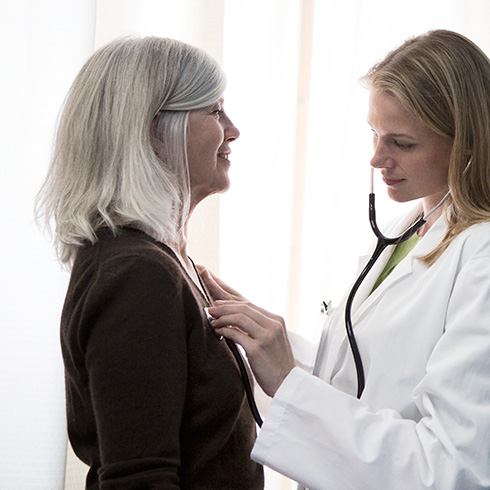 MORE INSIGHTS
Retiring early? Here are some tips on how to stay covered until Medicare kicks in.
Read More
The Advantages of a Health Savings Account
The HSA account, available to people who are enrolled in a qualified high-deductible health insurance plan, allows you to sock away pretax contributions for future health-care costs. The money in these accounts has the potential to grow tax-free, and withdrawals are also tax-free as long as they are used to pay for qualified health expenses. HSA funds can be used to pay for Medicare parts A, B and D and Medicare HMO premiums. They can also be used to pay for long-term-care insurance.
If you use your HSA for non-medical reasons, the amount you withdraw is subject to income tax and, potentially, an additional 20% federal tax. Be aware as well that there are limits to the amount you can contribute to an HSA in a year: $3,450 for individuals and $6,850 for families in 2018. Those who are 55 or older are also eligible to make annual additional catch-up contributions of $1,000 to their HSA.
HSA funds that you don't tap to pay qualified medical expenses today can continue to grow tax-free until you need to use them for medical expenses in retirement. After age 65, you can take money out of your HSA account for non-medical reasons without penalty, although those withdrawals will be subject to ordinary income taxes.
Do You Need a Flexible Spending Account?
To make the most of those tax-advantaged HSA savings, consider pairing your HSA with a limited-purpose flexible spending account (LPFSA), if your employer offers one. An LPFSA can only be used to reimburse qualified dental and vision expenditures. "Instead of depleting your HSA to cover dental and vision expenses, you can cover those costs with your pretax contributions to an LPFSA," says Tom Matarazzo, head of Health Benefits & Institutional Retirement Investments. If your employer's plan allows, you may be able to carry over up to $500 of unused funds in an LPFSA to the following year.
Look for a Tiebreaker
No one knows what the future might hold when it comes to health, and that can make choosing the right health plan seem a little like guesswork.
After you've considered your family history and crunched all the numbers, if you're losing sleep over the decision, take another look at the preventive-care health incentives your company and your spouse's company offer. That free yoga class or bike-share program just might end up being the tiebreaker.
3 Questions to Ask Your Advisor
What strategies can I use to prepare for rising health-care costs?
How can I see to it that my family and I get the medical care we need without jeopardizing our retirement savings?
Does it make sense to create a fund for a potential health emergency?
Connect with an advisor and start a conversation about your goals.
Give us a call at
1.866.706.8321
9am - 9pm Eastern, Monday - Friday
Have questions for your financial advisor?
Connect with to continue the conversation.
Neither Bank of America nor Merrill Lynch provide tax, legal, accounting or benefits consulting advice. This material should be regarded as general information on health care considerations and is not intended to provide specific health care advice. If you have questions regarding your particular health care situation, please contact your health care, legal or tax advisor.