When a marriage ends, women often see a larger drop in income than men. Consider these key points as you make decisions about splitting your finances as well as your lives.
AFTER 26 YEARS OF MARRIAGE, Sharron Ames, then 51, found herself at a crossroads. The CEO of a health-care consultancy outside Chicago, Ames had achieved professional and financial success. But her marriage wasn't on the same sure footing: "I was numb to the relationship," she says. "And it wasn't just me. We had both given up." Ames and her husband reluctantly came to the conclusion they would be better off apart.
When she didn't know what to do after her divorce, her advisor "helped me create a way to figure out the rest of my life," says Merrill client Sharron Ames.
The decision to divorce has become increasingly common for couples over 50. In fact, people in this age group are now twice as likely to part ways as they were in 1990, according to research from the Center for Family & Demographic Research at Bowling Green State University.1 And according to a Stanford University study, women actually initiate 69% of all marital breakups.2
The financial implications of divorce can be a sticking point—especially for women. According to one report from the U.S. Government Accountability Office,3 women's household income fell by 41% following a divorce or separation after age 50, while men's household income dropped by only 23%. With women living an estimated five years longer than men, that dip in income can have serious consequences. "That's why I tell my clients, 'A man is not a plan,'" says Merrill Lynch Financial Advisor Megan Stirrat, who has advised many female clients, including Ames, as they dealt with the financial aspects of divorce.
Switch to Accessibility Friendly View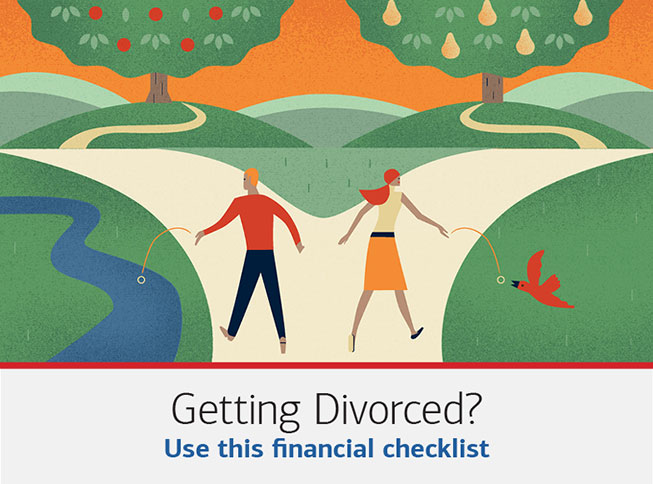 Splitting your finances during a divorce is never easy. These steps can help smooth the process.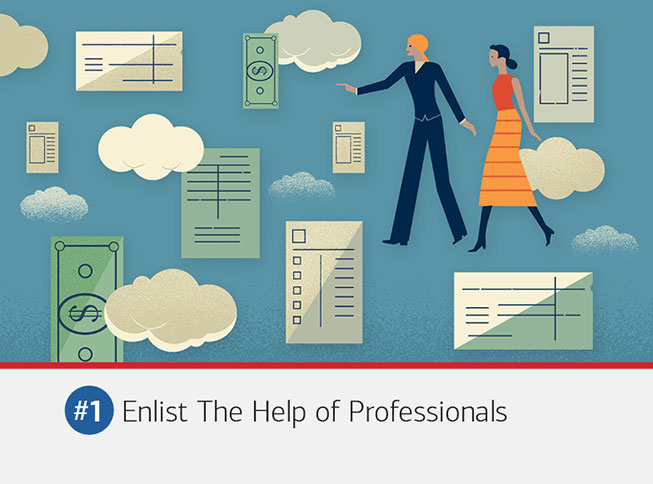 You don't have to go it alone. A divorce attorney, an accountant, your financial advisor—cool heads who've seen it all before—can help you develop a plan, maintain perspective and move forward with confidence.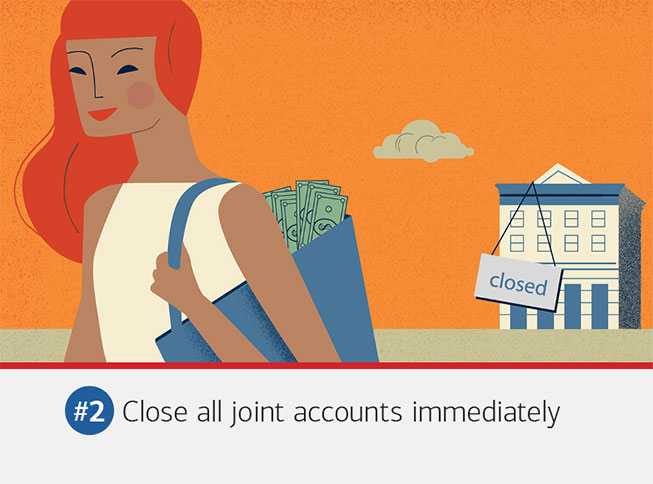 Open new checking, savings and credit accounts in your name only, and close any that are held jointly. You'll also want to take your name off joint bills and utilities, which can take longer than you might expect. Get a copy of your credit report to make sure you and your ex are no longer on each other's accounts.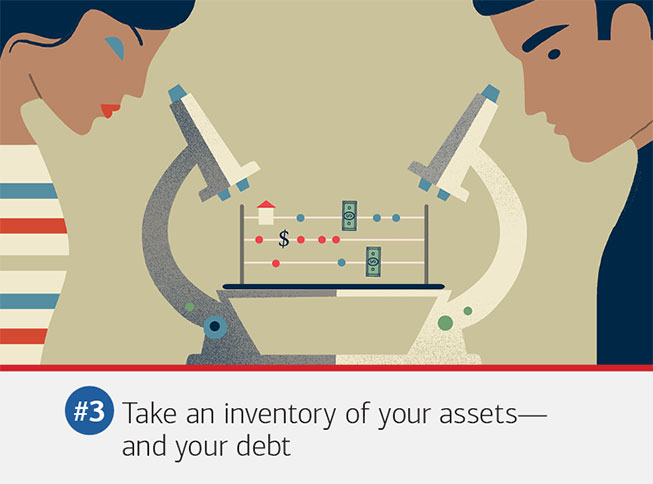 You'll want to split your assets (stocks, bonds, real estate, art collectibles, etc.) fairly, based on your needs and expectations, as well as the state law. If you're in a community property state, the split is always 50/50. And don't forget about your joint debt (mortgages, personal loans, credit cards, utility bills, etc.), all of which also have to be accounted for in the divorce agreement.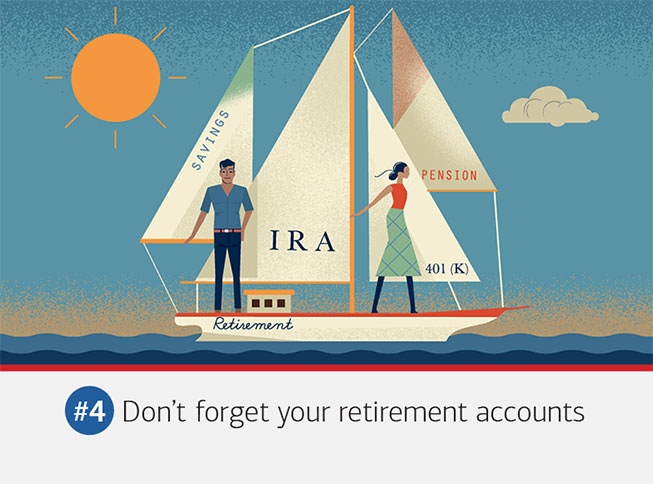 Talk to an attorney and tax professional about the best way to divide IRAs, 401(k)s and pensions. And get going right away on the Qualified Domestic Relations Order (QDRO) that's needed for many retirement assets. It can take months to complete, even if everyone is on the same page.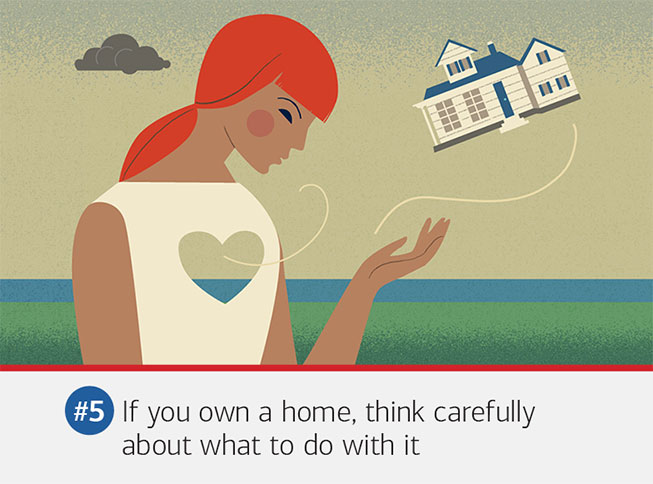 It doesn't pay to be emotionally attached to any asset—especially your home. Ask yourself: Can I afford to keep it on my own, or would selling it be more likely to help me achieve financial stability and move on with my life?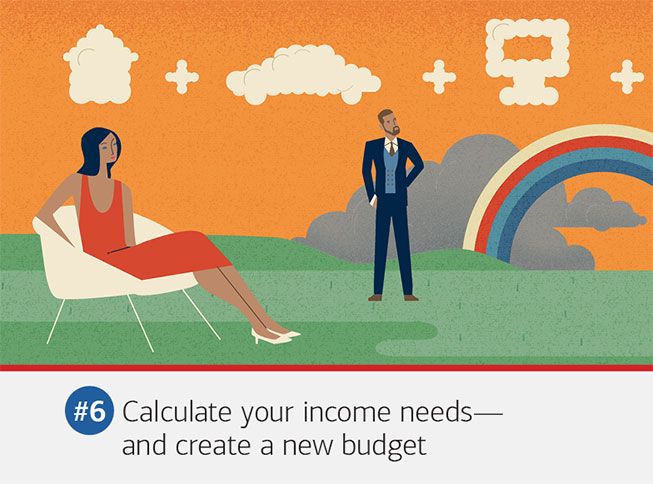 You can't figure out how much income you'll need if you don't know how much you can spend now, so look at your current budget and think about your future plans. Talk to an advisor about any adjustments you might need to make in how you spend, save and invest in your future.
Dismantling a Shared Financial Life?
The first thing Ames did as she concluded that her marriage was coming to an end was to talk with Stirrat, who had worked with the couple for years. According to Ames, after taking a hard look at the couple's finances, "Megan said, 'Here's what I would do in this case, and here's what I've done with other female clients getting divorced.' And through it all, she never said anything negative about my then-husband."

Ames was fortunate that she had a good income of her own, and that she and her then-husband, a marketing exec for technology startups, were fairly comfortable. Over their quarter century together, they'd accumulated substantial assets, including a large suburban home, multiple individual and joint investments, and Ames's growing health-care company. With the help of Stirrat, working closely with an accountant, the couple reached an amicable and equitable split of their assets, including their home, businesses, retirement assets and considerable art collection.
Ames and her husband have now been divorced for six years, and they remain friends. "When I didn't know what my next steps were going to be, Megan helped me create a way to figure out the rest of my life," she says.
4 Key Things to Consider When Divorcing
"A really critical initial step when facing the breakup of a marriage is to get down to financial brass tacks," Stirrat says. "That means doing an assets and debt inventory." From there, you can work out a plan for distributing them fairly. Below, Stirrat points out four financial areas that every divorcing woman (or couple) should consider carefully.

1. Your Investments and Other Property. The laws that govern how property will be divided in a divorce vary from state to state, so you'll be guided to some extent by local laws and customary practices. "That's why it makes a difference to have a lawyer who really knows local law," Stirrat says. For instance, there are nine states that are so-called community property states, in which property acquired during the marriage is generally divided 50/50. Other states tend to call for "equitable" division of joint assets, which just means that they're split in a way that stresses fairness, rather than equality. On top of that, some states are "no fault" states, in which the circumstances of the divorce play no role in the division of assets, while other states take such factors into consideration.
If your financial assets are primarily stocks, bonds and cash, divvying them up is often straightforward once you've agreed on what constitutes an "equitable" split, Stirrat says. The complications come with assets such as stock options, income-producing real estate, a vacation home, art or collectibles. There might be further complications if one of you owns a business: Agreeing to a value for the business as well as how much, if any, either party might be entitled to can be difficult.

"The typical advice for all of these kinds of assets is not to retain joint ownership," Stirrat says. It's important that you get independent, outside valuations, she adds. This not only reduces the likelihood of conflict, but ensures that you'll receive fair value (or pay fair value) in the event of a buyout.

2. Your House. It may be the place where you raised your children and now call home, but it's also an asset. Try to put your emotions aside if you can. As Stirrat observes, "One of the biggest mistakes my divorcing clients make is to try and keep the marital home when they can't afford it." If you do decide to put your home on the market, have it appraised right away so you can agree on a sales price. If the divorce is amicable, you'll likely need to have it done once. If there's contention, each partner might want to get separate appraisals, which could then be averaged.

"One of the biggest mistakes my divorcing clients make is to try and keep the marital home when they can't afford it. Have it appraised right away so you can agree on a sales price."—Merrill Lynch Financial Advisor Megan Stirrat

3. Your Retirement Assets. It's always a good idea to include your accountant when you speak with your divorce lawyer about handling these assets. Transferring one person's IRA, or a portion of it, to another requires special care to make sure there aren't tax implications. Also bear in mind that any private sector retirement plan that's covered by the Employee Retirement Income Security Act (ERISA), such as a 401(k) or a pension, will require a court-approved division of those assets through something called a Qualified Domestic Relations Order (QDRO). Your plan sponsor will also have to approve any QDRO.

"Getting the required language and approvals on a QDRO takes time, and it can be costly," Stirrat says. "So be sure to spell out how that cost will be divvied up ahead of time."

Social Security is another consideration. If you've been married for 10 years or more, you're entitled to 50% of your spouse's benefits or 100% of your own, whichever is greater. Says Stirrat, "If the marriage has lasted for nine-and-a-half years, it may be worth sticking things out for the additional six months." Note that claiming Social Security on your spouse's work record has no effect on his or her benefits.

4. Your Monthly Income. As an entrepreneur, Ames had an income of her own at the time of her divorce. But many women are in a very different position. They may have left their careers to have children, and either haven't worked for a while or have a lower income than their spouse because of their years out of the workforce. Your advisor, working closely with your attorney and accountant, can help you calculate how much income you'll require going forward, so you can receive the spousal support you need. As you do, advises Ames, "Make sure you adequately plan for health-care issues." You'll want to be sure that any settlement takes into account the potential for rising medical costs, especially as you age.

"Divorce can be an emotionally and financially difficult time," Stirrat says. "But you can come out the other side feeling stronger and less worried, with greater hope, stability and freedom.
Connect with an advisor and start a conversation about your goals.
1.866.706.8321


9am - 9pm Eastern, Monday - Friday
Have questions for your financial advisor?
Connect with to continue the conversation.
1 National Center for Biotechnology Information, "The Gray Divorce Revolution," Center for Family & Demographic Research at Bowling Green State University, 2017
2 "Who Wants the Breakup? Gender and Breakup in Heterosexual Couples," Michael J. Rosenfeld, Department of Sociology, Stanford University, 2017
3 United States Government Accountability Office, "The Nation's Retirement System," 2017
Case studies are intended to illustrate brokerage and banking products and services available at Merrill. You should not consider these as an endorsement of Merrill as an investment advisor or as a testimonial about a client's experiences with us as an investment advisor. Case studies do not necessarily represent the experiences of other clients, nor do they indicate future performance. Investment results may vary. The investment strategies discussed are not appropriate for every investor.
Investing in securities involves risks, and there is always the potential of losing money when you invest in securities.


Merrill, its affiliates, and financial advisors do not provide legal, tax, or accounting advice. You should consult your legal and/or tax advisors before making any financial decisions.