Switch to Accessibility Friendly View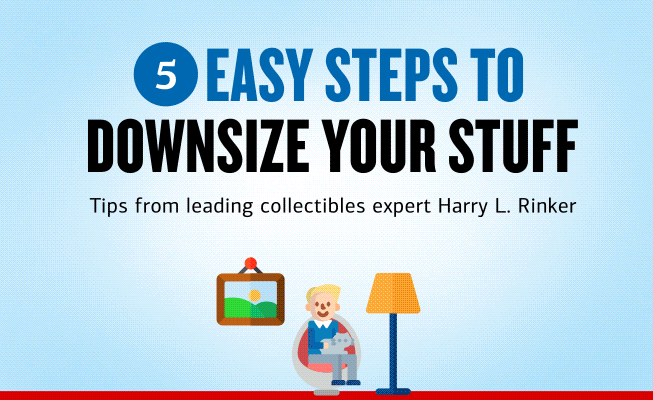 YOU MAY LOVE YOUR STUFF, but chances are that you could downsize a bit. How should you decide what to sell—and for how much—especially if your belongings include family heirlooms? Check out this advice from Harry L. Rinker, author of Sell, Keep, or Toss? How to Downsize a Home, Settle an Estate, and Appraise Personal Property.
Consider hiring an appraiser to help determine the worth of your more treasured pieces. Expect to pay $125–$150 per hour for a "walk-through" during which the appraiser examines every relevant item in your house, says Rinker.
To prep for the walk-through: Keep any relevant documents or receipts handy. Be organized—keep different sets of china or silver apart and unpack any boxes you want the appraiser to look at. Make sure rooms are well-lit.
When you receive a written appraisal, Rinker suggests that you make sure it includes photo documentation of all the objects that have been evaluated. This can also serve as a useful record for insurance purposes.
Don't just tell your daughter that she can have the heirloom china—set it down in writing. This could help avoid family squabbles later on and also help keep gifts in the family in the event of a divorce, Rinker says. But be sure to have open talks with your family before committing anything to paper.
It can be easier to let go of things if you know they're going to serve a useful purpose elsewhere. Think of this as an opportunity to support a local institution—the town library, a women's shelter, a community center. For tax purposes, keep a record of what you've donated and its estimated value.
3 Questions to Ask Your Advisor
Given my goals, how can I make the best use of the money I receive from the sale of my belongings?
I'm planning to downsize to a smaller home. Can you help me compare financing options for my purchase?
What are some ways my collection could help further my giving plans?
Connect with an advisor and start a conversation about your goals.
Give us a call at




1.866.706.8321


9am - 9pm Eastern, Monday - Friday
Have questions for your financial advisor?
Connect with to continue the conversation.