HAVE YOU ALWAYS WANTED TO LEARN a new language? Or take up rock climbing? Is it your dream to get a tough crowd laughing at the next comedy club open mike? Now you've got one more reason to go for it—it's good for you.
Research confirms that trying new things—especially ones that offer a degree of difficulty—can have a positive impact on cognitive health as you age, says Denise C. Park, co-director at the Center for Vital Longevity at the University of Texas at Dallas. "Getting outside your comfort zone and engaging in mentally challenging tasks may be a way to create new circuitry and protect your brain."
But its benefits can extend beyond health to alter your life in other ways—no matter what your age. Stretching yourself can take many forms, from trying out new leisure activities that test your limits (skateboarding? running a marathon?) to taking more dramatic professional leaps, such as switching careers or starting a business.
"Stretching yourself can take many forms, from trying out new leisure activities (skateboarding? running a marathon?) to taking dramatic professional leaps (switching careers or starting a business)."
Of course, some of these activities could have an impact on your resources—financial and personal. "I know clients who have made major lifestyle changes to accommodate new things they wanted to do, from horseback riding to climbing Mt. Kilimanjaro," says Merrill Lynch Financial Advisor Thorne James. But there may also be factors you might not think of—such as reduced contributions to retirement plans if you cut back on hours or switch jobs before retirement.
Being prepared financially can make it possible to take advantage of all sorts of new opportunities. "We try to help clients calculate what the impact will be, so that we can help them make appropriate adjustments in their financial strategies," James says.
What are some of the ways you could break out of your comfort zone? Consider these options.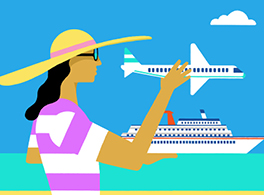 1. Go far away—to find yourself
When you travel to a foreign country—whether you're going solo, or bringing the whole family along—you're more or less encountering nonstop stimulation and problem-solving. Consider visiting a country where you know enough of the language to get by but aren't fluent, so that it's a bit of a challenge for you. That problem-solving space outside of your comfort zone is what many experts describe as bliss, nirvana or "being in flow." If you persevere and push past your initial feelings of discomfort you should be able to reach this emotional state—what many are calling "flowstate." This sense of total immersion in a new activity or place, is arguably the best part of pushing your limits.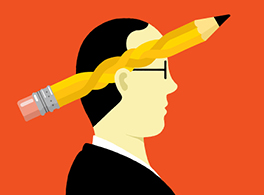 2. Challenge your mind
Whether you're interested in auditing some college classes or going back for a degree, it's a great time to be a student. The proliferation of massive open online courses (MOOCs) has opened up thousands of learning opportunities to millions of students worldwide—often at no cost.
A study Park conducted proved the value of stretching your cognitive limits. Park set up three groups. The first was assigned a "high-challenge activity." The second "just had fun—they didn't learn new material." The third stayed at home and listened to music or played board games. Park reports that the first group "showed improved cognitive function and memory—some even one year later."
3. Upgrade that hobby into a business
What if you could take what you love doing and turn it into a source of revenue? Older workers especially can reap social and cognitive benefits from a part-time career they love. Take carpentry, for example. Start small—maybe with a table or a chair—and see if you can sell your work at a local market or online. Then go bigger. Launch an online crafts store or construct a shed or remodel a room for a neighbor.
"But you'll need to think about what it means to be your own boss financially," says Thomas Carter of Personal Retirement Strategy & Solutions at Merrill Lynch.
4. Break a sweat
In 2001, Patrice Tanaka, Manhattan public relations mogul and CEO, took up ballroom dancing when she was trying to balance her husband's illness with a downturn in business. Thirteen years later, she's become more physically fit—and found peace—from dancing.
Whether you take up ballroom dancing or basketball, sports can challenge you both physically and mentally—especially if you choose to compete or perform in public. While many activities can be pursued at low or no cost, those that require significant outlays—such as taking flying lessons or purchasing a boat—should be addressed as part of your broader financial planning.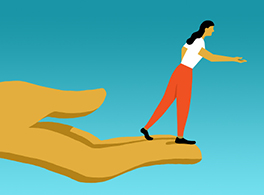 5. Give a bit of yourself to a cause
There are a plethora of ways to get more involved beyond writing checks: Sign up for a fund-raising walk or donate your expertise to the local office. You could even learn an entirely new skill to devote yourself to others. Learn CPR and other life-saving techniques and become an EMT. Many animal rescue organizations can also use your help.
"If you devote yourself to a single charity with a mission you're passionate about, you're likely to feel more rewarded for what you put in," says Greg Mojica of Bank of America Merrill Lynch Global Commercial Bank.
3 Questions to Ask Your Advisor
Can I afford to cut back on my work hours in order to pursue a new interest?
What are some ways to consider covering a large one-time expense?
I'm wondering whether my new hobby might have potential as a business. What should I consider as I think it over?
Connect with an advisor and start a conversation about your goals.
Give us a call at
1.866.706.8321
9am - 9pm Eastern, Monday - Friday
Have questions for your financial advisor?
Connect with to continue the conversation.
"Bank of America Merrill Lynch" is the marketing name for the global banking and global markets businesses of Bank of America Corporation. Lending, derivatives, and other commercial banking activities are performed globally by banking affiliates of Bank of America Corporation, including Bank of America, N.A., Member FDIC. Securities, strategic advisory, and other investment banking activities are performed globally by investment banking affiliates of Bank of America Corporation ("Investment Banking Affiliates"), including, in the United States, Merrill Lynch, Pierce, Fenner & Smith Incorporated (MLPF&S) and Merrill Lynch Professional Clearing Corp., both of which are registered broker-dealers and Members of SIPC, and, in other jurisdictions, by locally registered entities. MLPF&S and Merrill Lynch Professional Clearing Corp. are registered as futures commission merchants with the CFTC and are members of the NFA.